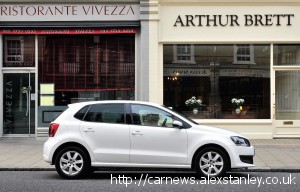 Volkswagen has had a bit of a shuffle with the Polo range, having replaced the SE and Moda trim levels with a new Match version instead. The Match features 15-inch alloys, front fog lights, heat-insulating tinted rear windows, air conditioning, and a stereo with iPod connection as standard.
The Match is offered in three- and five-door versions, and is available with a choice of two petrol engines – a 1.2-litre three-cylinder producing 60 PS and a 1.4-litre 85 PS – plus one diesel – a 1.2-litre 75 PS, which are fitted with a five-speed manual transmission as standard. A seven-speed DSG option is also available with the 1.4-litre petrol engine.
Available from today, the 1.2 Match costs £11,300, which is £215 less than the outgoing model it replaces.