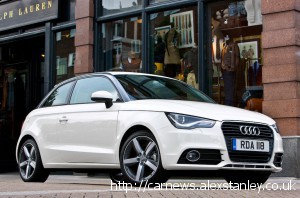 The funky, chunky Audi A1 has been awarded the What Car? Car of the year 2011 award, with the magazine declaring it is "the right car at the right time, combining desirability with ability".
The judges were full of admiration for the premium subcompact hatchback, which "comes across as every inch a bespoke premium product" and "oozes quality everywhere you look and from everything you touch – you won't find better at this price."
Steve Fowler, Editor-in-Chief of What Car?, explained: "The Audi A1 is a brilliant car: brilliantly targeted and brilliantly executed. More and more buyers are looking for smaller, more efficient cars, but with all the luxury trappings of much larger cars. That's exactly what Audi has given them – a super-stylish, high quality small car that's affordable and great fun, too."
Prices start at £134,420 for the 1.2 TFSI model and rise to £18,665 for the 1.4TFSI S line.