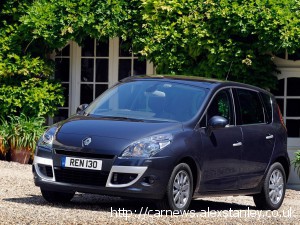 Ah, the good old days.  Things seemed so much simpler then.  I remember a time when car manufacturers like Ford, for example, had simple trim levels that people could understand.  Popular, Popular Plus, L, GL, Ghia and so on.  And I can remember the clear delineation between them too, like one had a heated rear window and the other didn't.
Cut to 2010, and Renault has got itself in a bit of a tizz.  Model names like Expression, Dynamique, GT, S, Extreme don't seem quite so simple, so the French firm have decided to do something about it.  Fantastique!
So, from 2011, there will be a maximum of three trim levels for each model in the Renault range (although this excludes the Renaultsport, Gordini and special edition models), and as a result of this consolidation some models will gain extra equipment as standard over the previous equivalents.
The three trim levels will each offer something different to customers. Expression becomes the base model, with Dynamique TomTom the next in line, including Carminat TomTom satellite navigation as the name would suggest. GT Line TomTom tops the bill, with even greater sportiness and class-leading equipment and looks.
These changes are set to start from the 4th January, which will help in the post-Christmas haze I'm sure…